Open pilot of the advanced augmented reality course moves online

CODE_REALITY and COVID-19
Because of the COVID-19 pandemic and associated travel restrictions, Code Reality decided to move the Advanced Augmented Reality course online. The course will run on the same dates April 19-24 2020 on Code Reality: Learn. The hackathon is cancelled.
Learning online
The program of the course will be adapted for the online delivery mode. However, it will still include most of the advanced AR topics we planned to cover. Some of the practical workshops will be replaced with demonstrations and tutorials, so that the dedicated students can successfully follow them and learn with our guidance.
Program
The program will include design thinking and user experience guidelines, as well as advanced story-telling teach creative tools and methods for outlining and substantialising the AR application idea. Computational thinking and performance profiling lectures equip students with the required theory and practice for building AR applications.
The implementation-focused technologies advance from the foundational course to cover now spatial understanding (on top of spatial mapping), abstraction for cross-platform/multi-user/multi-device support, artificial intelligence dialog understanding, open CV foundations, wearable technology and making things talk, and volumetric video capture.
Finally, evaluating AR introduces the methodologies available for verifying and validating applications.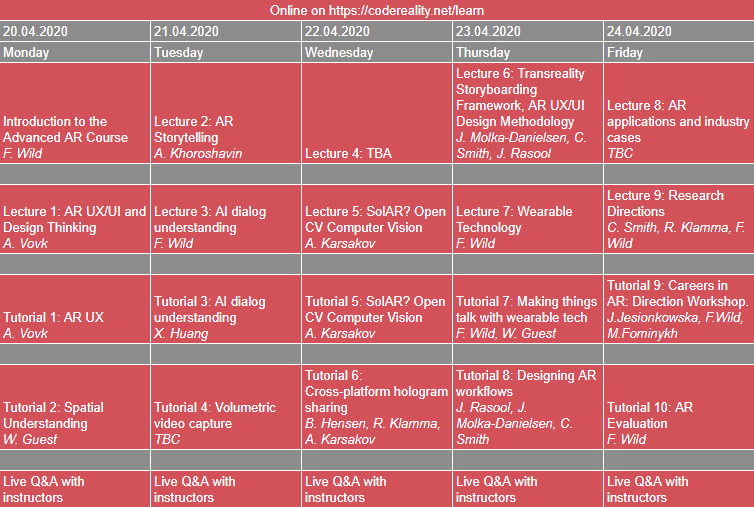 Course Details
Course dates: April 19-24, 2020

Online platform:  Core Reality: learn
Enrollment: self-enrollment
Cost: free
About the instructors
The event is organized by the AR-FOR-EU team, a strategic partnership of five Higher Education institutions dedicated to building solid on-campus and online courses on the topic of Augmented Reality.